Highlights from the Earth Month 2023 Takeover Series
Didn't get a chance to watch the takeover series? Here's an overview of the Earth Month 2023 takeovers at the UCI School of Physical Sciences.
Monday, May 01, 2023
UCI Physical Sciences Communications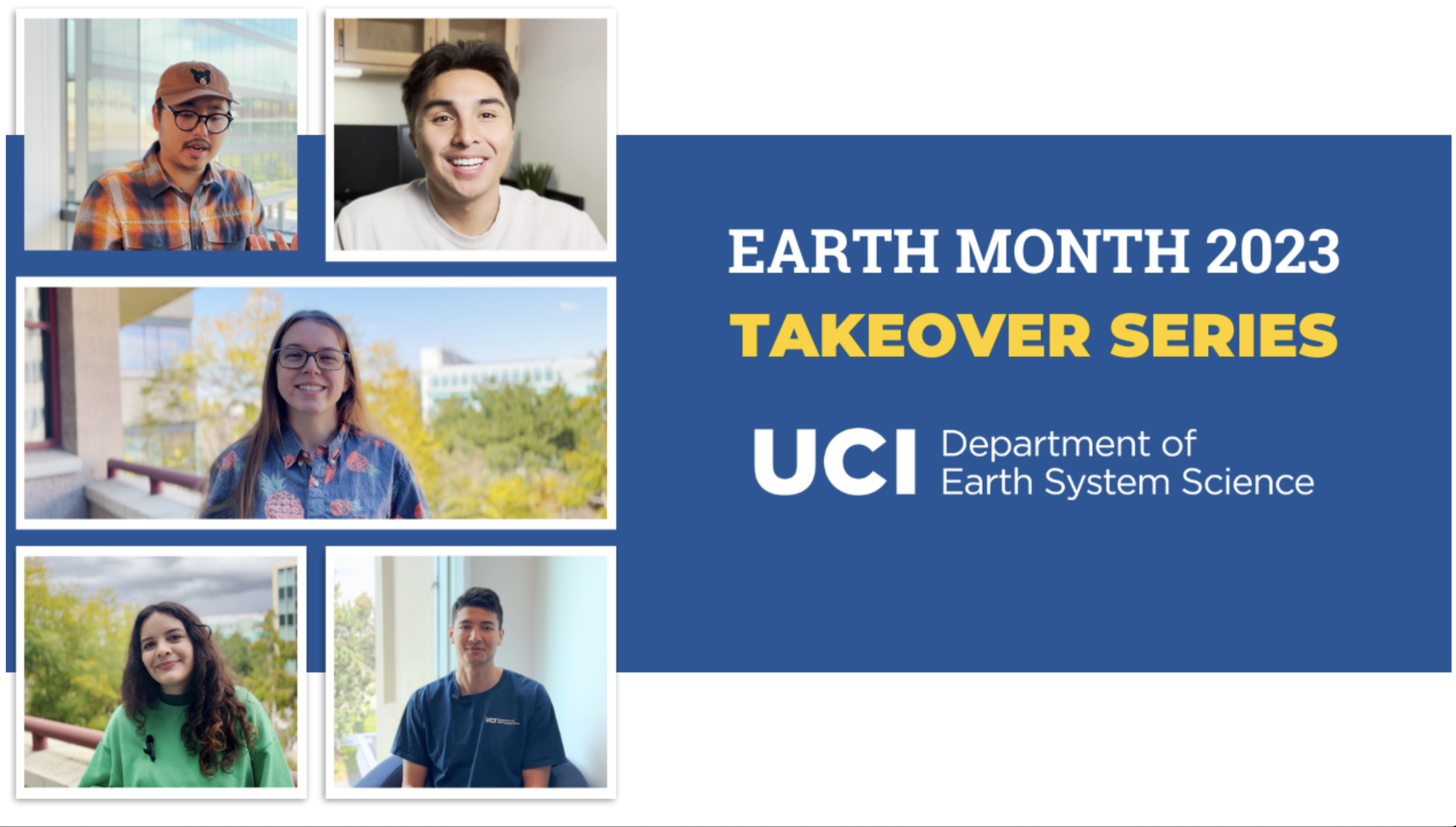 Picture Credit:
Bryant Labajo Pahl / UCI
This year's Earth Month takeover series showcased graduate students in the UCI Department of Earth System Science (ESS) who shared insights on their research and how it relates to this year's Earth Month theme "Invest in our Planet." This series offered a glimpse into the research of these students and their unique perspectives on 2023's theme.
Bryant Labajo Pahl, third-year Ph.D. Candidate
Kicking off this year's takeover series is the ESS Science Communication fellow, Bryant Labajo Pahl, who takes us on an excursion through caves. His journey into the natural sciences began in high school when he garnered an appreciation for the Earth after growing up in Joshua Tree, California. Bryant explains that the most compelling part of his research is the storytelling: "Understanding how these stories [of past climate] can help us inform our future is one of the biggest reasons why I am invested in this research," said Pahl, whose research focuses on using cave deposits (or speleothems) to reconstruct changes in the Earth's climate in the past alongside Professor Kathleen Johnson.
Jinhyuk Kim, fourth-year Ph.D. Candidate
How could New York's Central Park inspire a young scientist to study climate science? Jinhyuk Kim (Jin) explains how he was inspired to do science through a seminar presented by Dr. Swann at the University of Washington, who he eventually worked with as an undergraduate student researcher. His research now delves into post-fire effects on land cover and photosynthesis with Professor Jim Randerson. Jin looks at how plants glow through "solar-induced fluorescence" from satellite images. Combined with model simulations, he seeks to understand how changes to plant communities can affect the productivity of boreal forests.
Cindy Yanez, fourth-year Ph.D. Candidate
The next time you cutoff a big Mercedes Sprinter Van on I-405, you might just be passing by Cindy Yanez studying car emissions from Southern California traffic. Yanez said that she "sits in traffic on purpose to try to understand how cars are changing with changes in human activity and improvements in technology and policy." Growing up in the Coachella Valley, Cindy explained how she became "really worried about how extreme heat would affect her hometown." Cindy's research as an ESS Ph.D. candidate primarily focuses on emissions of fossil fuel carbon dioxide from urban cities in the lab of Professor Claudia Czimczik.
Kyle Manley, third-year Ph.D. Candidate
Kyle Manley recognizes that accurately incorporating human behavior into climate science poses a significant hurdle for ecosystem service research. Nevertheless, Kyle says he's up for the challenge. Born and raised in Colorado, Kyle grew concerned about the potential impact that climate change would have on his hometown. What further concerned him as he navigated his way through science classes was one missing crucial factor: the connection between "the biological, physical and chemical aspects of climate change to the human aspects." Kyle, now a third-year Ph.D. candidate, primarily studies climate change impacts on ecosystem services with Professor Benis Egoh.
Haley Staudmyer, first-year Ph.D. Student
Closing out this year's takeover series, Haley Staudmyer breaks down the stakes for us to invest in our planet. Coming from a small town in Ohio, Staudmyer's initial inspiration to pursue climate change research came from writing an English essay on electric vehicles. Since then, her passion for research has evolved, and she now seeks to understand how these issues will affect the lives of everyday people. The first-year graduate student is starting her career in ESS swinging as she tackles two research projects related to the impacts of climate change and extreme heat on health on regional to global scales with Professor Jane Baldwin.